Happy New Year, my lil' sandwiches 🥪 (don't worry that's not gonna be your new collective name)
---
Hey everyone it's me! Look momma we made it! And it's also 2018 so a happy new year to all of you! I crossed over at church, not home cause going to church is the tradition for New Year's and it was great until my period came and I may have been secretly PMS- ing… TMI? Sorry. But my sisters friend came to my rescue and I felt much better. And thank God I was wearing all black at that time, cause if not… jeezzz the embarrassment.
But let's not talk about my problems ✋🏾
Let's talk resolutions. Cause that's obviously the best part of New year's right? 😉😂
So recently I discovered an amazing blog called Forever & Everly ran by May, the fabulous queen behind it, and she recently posted her resolutions for 2018 in a Goodbye 2017 post and I really liked the layout for her resolutions cause she put it in categories and I thought instead of thinking of so many things and listing them, I should categorise them to make it easier for myself, and so I don't get a bit too reckless with my resolutions.
Nowwwww
BRING ON THE TARGETS AND GOALS
---
BLOGGING
Get at least 10K views in 2018- if you remember in my Goodbye 2017 post, I wrote about giving you guys a "challenge" for us to get 10k views altogether because last year we were almost at 9.5k views (9,475 to be exact) and I thought since, we weren't able hit the 10,000 last year, we can try this year. But obviously, that means I need to be blogging at a good rate, and trying to attract more people to start reading it too.
Get at least 500 followers- I managed to receive like 300 followers in one year, and what hurts to receive 200 more. I know bloggers who have managed to receive a 1000 followers from like six months of starting, making me kinda jealous. (I'm an honest person ok 🙂 ) But I really believe we can make it.
WE'RE ALL IN THIS TOGETHER!!!
And that brings me to my next goal:
Adding more GIFs to my posts- I obviously won't add them to my poems cause the inconvenience would be so wild that it would be hilarious. Imagine that, the last line being something deep and sad and soppy, like:
The pain was so deep, I could feel my words cry too And then something like this comes up after: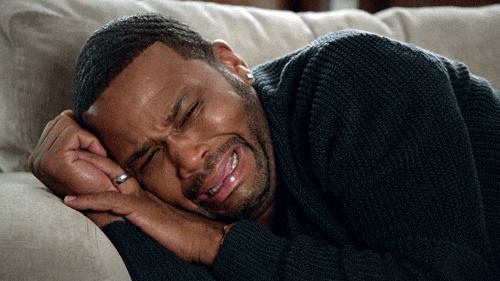 But yeah, I'd probably put it in like full lengths and Q and As, you know at appropriate times.
Do more collab posts and maybe interviews?-my anxiety is so big that even doing collabs sounds scary to me, mostly cause I don't really know how they work. But I need to do something like that more, I'm too lonely on this blog and I need to interact more if I want this to get to thousands.
<
br>n ;Create a tag?- I don't know what the tag would be about but hopefully I'll find out later this year. I remember I tried to make a Q & A but I used the questions to give out to the people I tagged for my Blue Sky Tag but I hope I can make a proper one this year. 🙂
READING
Read at least 25 books- And I'm hoping I won't have to lower it down later in the year. I seriously missed reading and my target was 14 books last year, but I only read six cause I never managed to get enough free time to read any books and it was taking me agesss to read one book that I still haven't fully finished by I can finish now if I want to. And it's pretty hard to decide whether in the free time that I barely get to read, watch anime or get sucked into the YouTube vortex and watch videos until the cows go home. But I've set my Goodreads challenge already and I've already started reading 'The Hate U Give' which is an amazing book already even though I get pissed off at some parts and it ruins my mood for the rest of the day, and I believe I can make it.
<
br>n ;Vary genres and age ranges- I don't know if you guys may know this, but I currently have a reading age of 17, I was told that when I was in Year 8 in late 2016, and that's really good for my age. This means I'm expected to read books for 17 year olds, and I've found myself falling in love with YA books cause they just seem more appropriate and fun to read, also easier to understand. But it kinda seems like I've been reading the same kind of books (even though the book I'm currently reading now is quite more different) so I think it's better for me if I start reading more diverse books and maybe more adult books but nothing TOO adult, if you know what I'm saying 😉 but you know, I need to switch it up more.
WRITING
I never thought this would be a category, but oh well.
Start (and maybe finish) writing a novel?
My writing be like:
Ooh, I'm overdue, give me some room, I'm coming through Christina Aguilera reference. Was thinking about putting in the GIF but then I searched it up and thought: yeahhh… better keep it PG. Ever since I was a baby child, I've been writing stories, hoping they'd be published one day, but eventually I let that dream pass away, especially because these days it's soooo hard to get a book published because of how criticising critics can be, despite the fact that it's their job. But I guess it would be great to actually give it a try this time. And maybe, when my sister actually let's me have Wattpad, finally, I can be able to write more frequently. But you know… baby steps. There have even been bloggers saying that I'm every talented writer (thanks so much by the way) and that I should definitely consider writing a book, so I might as well give it a try this time.
Finish writing my album and possibly write more?- I started my tenth album at the beginning of Year 9 and I've written six songs for it already and I'm hoping i can be able to finish it and maybe even start writing the eleventh.
SCHOOL
Receive a Jack Petchey Award- guys, I apologise. I reallyyyy can't be asked to explain what a Jack Petchey Award is but trust me, if you search it up, you'll get really good results on what it is. Receiving this award will be very important to me, no matter which department or subject it is in or even if it is just winning the Speak Out Challenge, it would be an honour to get this award.
Continue being in the top set for all subjects- Science is kinda iffy. I don't really know whether I'm still in first set or nah, but I'm not in anything lower and I wanna continue to be an SBG (Successful Black Girl) and work hard.
Work hard but don't be hard- I enjoy being a hard worker. Because there are amazing results within it and I've been experiencing those results for as long as I can remember. But I'm continuously too hard on myself and those results weren't amazing at all, and if I don't stand out in any sort of way, then I'd continue to beat myself up about it making me lose faith in myself. I don't want that to happen this year, or any year from now.
Persuade myself to expect good results- there have been several times when I've done tests but have not expected good results, or results that I don't want and that's why I want to make myself be attentive in lessons so whenever I do a piece of work, I can expect good results. And one of the ways I wanna do that is ask my teachers if I can somehow redo all the test we have done so far this year (it's really not that much cause we're still early in the year) and try to get better results than I did before.
Gain more respect for and from teachers- there are some teachers who I'm pretty sure don't like me. Mostly because there are other geniuses who gain more respect from teachers and work harder than I do, cause the only problems they go through are bus diversions and crap like that and they have nothing wrong with their mental health. So instead of not trying in lessons whenever I'm in a bad mood, I'll still try and work harder cause things are just gonna get more difficult as we go through the year and it's better that I try to make myself happy when I'm upset instead of beating myself up and sulking. In addition to this, even though I already have a lot of respect for the teachers in my school, I should definitely respect them more; I've taught myself that if you respect people, they will in return, respect you. And the best you can do for teachers, is do the work they give you to the best of your ability and soon everybody's happy.
LIFE
Actually attempt to make myself happy- one weird thing about me is when I'm not happy, I just sulk and sulk until one irritating person or thing makes me laugh and my mood changes. So instead of letting myself sulk, I want to be more optimistic and when something is wrong, I'll do whatever I can to make it right. It's something my sister does, and I really look up to that (and her, but don't tell her I said that 😉 ) and in the end, I can be weird and happy like she is.
Keep on doing water streaks weekly- I like to do this thing called a 'water streak' every week (but only for weekdays) where I drink only water and tea, cause tea doesn't really do difference to your skin in a bad way, in order for my skin to clear up better and overall, it helps your diet only a tiny bit, I guess. But the results are good cause water does wonders 😉 That should be a quote.
"Water does wonders"- ES Ordinary @ Waves of Awesomeness (2018)
Don't be afraid to open up- don't ask me how many times I would be bawling my eyes out and someone would ask me what's wrong and I'd just be like "nothing". I don't really lie, and that's why I'm pretty bad at it but I just didn't like people who have better things to do, things they would actually enjoy, worrying about me. But now that there are people who actually care, I think it's good that I open up about how I'm feeling cause again, there are amazing results which come with it and people who can actually help, there are nice people out there and it took quite a long time for me to believe it. So I need to be able to open up and let it out, cause according to others, it really lifts the weights of off your shoulders.
Organise myself better- people already tell me:
Ohhh, ES you're so organised, stop lying to yourself blah blah, blue blue
I'll admit it. My stuff is organised very well. If you see my school bag and how I arrange my stationery, then yes, you can agree that I'm organised in that way. However, when it comes to actually getting stuff done, I am a flippin' mess. My dad was like:
Ughhh ES, you really need to organise yourself you should ask your mum or your sister to help you make a timetable
What time do I have to make a timetable? I really don't see the point. I'd rather just find some type of mechanism that stops me from clicking that 'one more episode/ video' and forces me to do my work. We all know, there are times when you just can't be asked to do your work and procrastination is all like:
Listen to me. LISTEN TO MEEEEE
So maybe, I'll try to organise myself a little more. Especially with posting cause this should've been posted days ago, but I just keep falling asleep. And I also knew that this was gonna take foreverrrr to write. But hey, things will get better, it's 2018! Yayyy!
---
And guys that's a wrap on resolutions. I'm gonna be back at school on Monday so holidays are pretty much over for me. I slept quite a lot and was waking up at like 11am to 12pm everyday, now I have to go back to waking up at 6. Ughh… it was good while it lasted it.
Some updates:
I'm hoping to start my novel soon, once I actually get some inspiration of what it should be about. As I said before, I'm currently reading the book 'The Hate U Give' and it's soooo awesome so far and I'm hoping to be on track for my Reading Challenge on Goodreads. We ended 2017 with these stats:
And I'm hoping that we beat those stats.
---
I hope you guys enjoyed this post. Sorry I posted it so late but at least it will be posted and it looks pretty awesome in my eyes 🙂
Make sure to like comment and follow my blog Waves of Awesomeness and don't be scared to look at my other posts. This was my first post of 2018, can you believe it! 🙂
I hope you guys had an awesome and happy new year!
Peace out and stay awesome 🙂
~ ES Ordinary xx